EVENTS AND HAPPENINGS IN THE VILLAGE OF VANGUARD
Sheets of Steel Fundraiser. The Vanguard and District Curling and Skating Rink Clubs are selling sheets of steel to replace the roofs and the ice plant. steel sheets are $110 each or can be sold in "Olympic Packages": Platinum ($20,000 - and your name goes on one of the rinks); Gold ($5000); Silver ($1000) and Bronze ($500). All donors will be acknowledged and all donations are tax -deductible.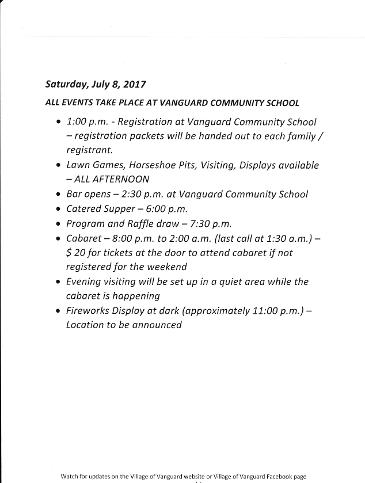 CFRC FUN RUN! June 10, 2017 at CFRC (Old School) at 9:00 AM sharp. Please contact vrb@sasktel.net for a registration form. You can register on the day too! Breakfast will be served to runners / walkers after!
EVERYONE WELCOME! The original event has changed! All events take place on July 8, 2017 at Vanguard Community School. Come and celebrate with us and catch up with friends and family. Registration at 1 PM. Events start at 2:00 PM (visiting, games, visiting, displays). Supper at 6 PM, programme at 7:30 PM and dance at 8:00 PM. Fireworks at 11:00 PM. Last call 1:30 PM. PRICES $45 ADULTS (IF YOU HAVE ALREADY PAID, YOU WILL BE CONTACTED); STUDENTS $ 35; CHILDREN $ 25. For more information or to obtain registration forms, please email vrb@sasktel.net. DEADLINE IS JUNE 15, 2017. Please contact us at vill.vanguard@sasktel.net or 306-582-2295and we will email or mail you one!