EVENTS AND HAPPENINGS IN THE VILLAGE OF VANGUARD
Sheets of Steel Fundraiser. The Vanguard and District Curling and Skating Rink Clubs are selling sheets of steel to replace the roofs and the ice plant. steel sheets are $110 each or can be sold in "Olympic Packages": Platinum ($20,000 - and your name goes on one of the rinks); Gold ($5000); Silver ($1000) and Bronze ($500). All donors will be acknowledged and all donations are tax -deductible.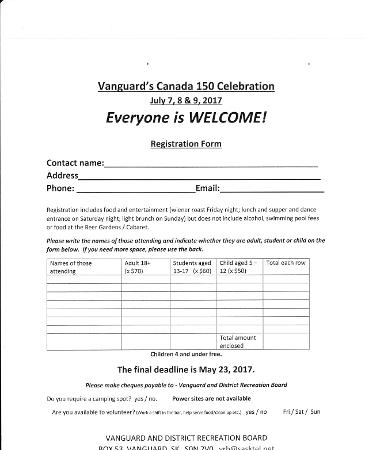 EVERYONE WELCOME! Canada150 Invitations have been sent out! If you did not receive an invite, it probably wnet to an old address or got lost in the mail. Please contact us at vill.vanguard@sasktel.net or 306-582-2295and we will email or mail you one!